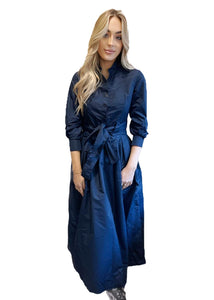 Marina Dress Navy
We are back with more of our popular Marina dresses! This collection features slightly heavier fabrics, perfect for a Christmas party or Hogmanay. With a range of patterns and fabrics you will find a dress for every occasion.

This dress is named after the incredible inspiration journalist Marina Uvsyannikova. We were so moved by her incredible bravery. 
This effortlessly fabulous shirt dress with pockets, (yes pockets - we love a pocket!!) has a full pleated skirt, button front and flattering bracelet sleeve.  

Ethically manufactured in Italy
Made from 'waste' fabric from the luxury fashion industry

Traditional retail mark up price £420 vs our honest price £250 based on direct to customer